Earlier this year, I was the first stop on the first ever
Creative Crafting Blog Tour
which linked together a whole host of crafters on a 16 day non stop tour.
For my blog stop, I decided to host a craft Swop and invited crafters to sign up - I would pair people up and they would swop hand-made gifts - and I would share the stories and photos with you. You can read all about
The Old Button Swop
on my blog tour post.
There was lots of interest and in the end I received full details from 7 great crafters,and with me too, that made 4 pairs. So without further ado - here is the first of the swops!
Pastelesta
and
Stombolitwo
. Two great names that sound amazing together - and I did do the pairing randomly, honest!
Fingerless knitted gloves for Helen from by Kristen
Kristen from
Pastelesta
made these fantastic fingerless knitted gloves for Helen. Helen had said that she loves textures, natural & found, cats and wild critters, Islamic patterns, Istanbul and Italy, by the sea.
I love how Kristen combined some of Helen's favourite things into these gloves - the gorgeous sea-green colour and wave design combined with the lovely texture of the natural wool. Helen was delighted with her lovely gloves - saying they would be very useful.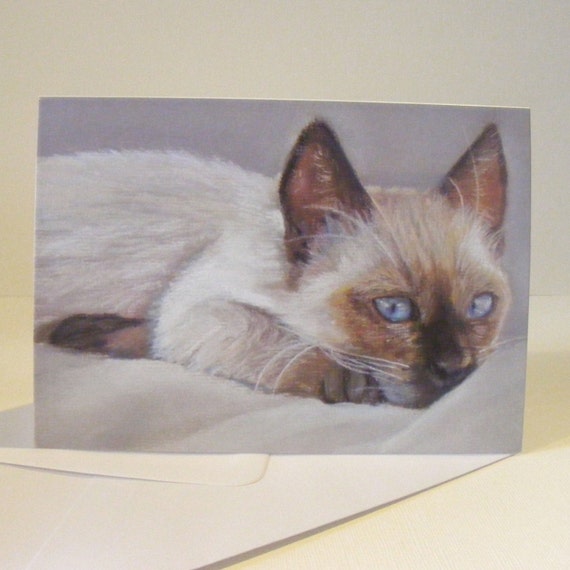 Pastelesta on Etsy
Kristen is a very talented artist and paints portraits of of pets or people in pastel or pencil.
Helen's parcel also included a couple of Kristen's card prints - like this lovely print of a Siamese cat, which is available for sale at
Pastelesta on Etsy.
As well as a range of ready printed cards, notelets and prints, you can also commission a portait of one of your loved ones or pets. You can find out more about Kristen's work by liking
Pastelesta on Facebook
.
Art Pastels Carry Case for Kristen by Helen
For her return swop, Helen from
Strombolitwo
made Kristen a brilliant art pastels carry case.
Kristen's thought her swop was beautiful and she loved the little roses, saying it was very thoughtful of Helen to think of making her a pastel carrier.
As well as recognising Kristen's passion for art, Helen also picked up some things that inspire Kristen - the lovely natural texture of the fabric and the retro style roses made from vintage kimono silk.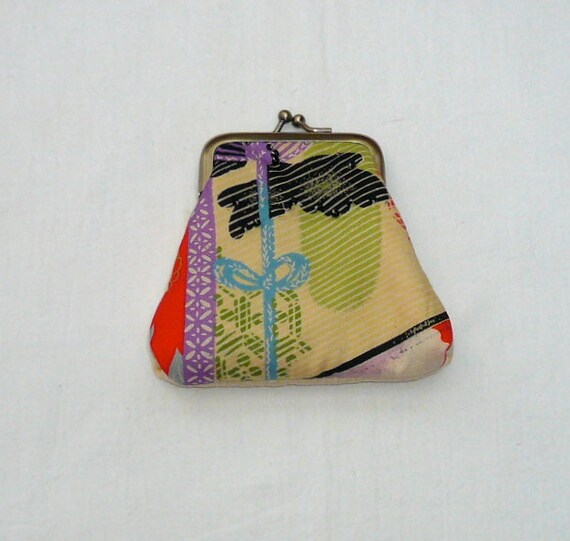 Strombolitwo on Etsy
Through Strombolitwo, Helen designs and makes exclusive and individual accessories for men and women from upcycled vintage kimono silk.
As well as beautiful cases and purses like this treasure clutch purse that is available to buy at
Strombolitwo on Etsy,
Helen's designs include necklaces, men's ties and mobile phone covers.
I am so pleased that both Helen and Kristen both enjoyed making and receiving their lovely swop gifts. In my next post, I'll share the stories of swop partners Joy and Pat.